TV Announcement - Help children feed themselves. Offer a diverse diet to let them eat well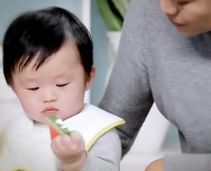 Apart from providing young children nutritious foods, feeding them in a developmentally appropriate way is essential to their development. It also helps them build healthy eating habits early.
Babies feed only on breastmilk in the first few months. About 6 months of age, they start eating solid foods. Parents should introduce various nutritious foods into their diet. For information about the nutrition and feeding infant and young child of various stages, recipes please click here.
Babies learn new skills as they adopt to eating solid foods. At 7 to 9 months of age, babies begin feeding themselves and drinking from a cup. Parents should facilitate them to self feed, and let them eat together with their families.
Between 1 to 2 years of age, young children can feed themselves with a spoon and a fork. After 1 year old, parents should assist them switch to drinking from a cup. Parents should also help them stop using feeding bottle for milk by 18 months of age.
For more information about helping children to drink from a cup, practical tips for weaning from bottle, milk feeding, please click here.